Hvad er kampkunst?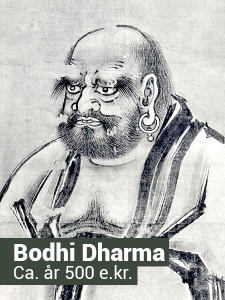 Når du hører ordet kampkunst, forestiller du dig måske folk, der iført hvide pyjamasser og kulørte bælter, slår og sparker på hinanden. Vi kan fortælle, at dette er en udbredt misforståelse/underdrivelse. Hos The Art of Peace finder du ingen slagsbrødre. Du skal ikke være slagsbror for at deltage – og du bliver heller ikke slagsbror.
Mens man i kampsport kæmper mod andre og træner hårdt for at vinde medaljer, er fokus i kampkunsten et helt andet. Kampkunsten er kampen mod dig selv. Gennem kampkunsten uddanner du dig til "Hvid kriger", ved dagligt at forbedre dig menneskeligt.
En "Hvid kriger" ved, at man er to indeni. Alle mennesker har indre konflikter – og det er denne konflikt, der er den sande kamp. De gamle mestre vidste, at der var større chance for, at man slog sig selv ihjel inden man mødte fjenden. Man mener at kampkunsten opstod med Bodhi Dharma ca. 500 e. kr.
I kampkunsten arbejder man med 108 dødssynder, som frarøver én muligheden for at leve i nuet. At leve i nuet er målet. Det er her man mærker livet – det er her man er tilstede. De fleste mennesker i dag er "døde". De lever enten i fortiden eller fremtiden. De hæfter sig i gamle konflikter og stresser med planerne for i morgen. De 108 dødssynder koges ned til de fem synder: Vrede, stolthed, begær, misundelse og dumhed.
Kampkunsten er en vej – en vej til at blive et menneske i balance. Vejen indeholder østens filosofier og viden om krop, sind og sjæl.
Hos The Art of Peace underviser vi blandt andet i livsfilosofi og vores karatetimer indeholder elementer fra kropsterapi, Qi Gong, mindfulness og meditation.